Cosmetic Dental Care: Discover Your Beautiful New Smile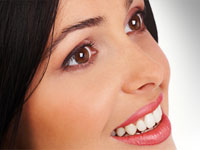 Choice is a wonderful thing. It can mean the opportunity to look a dozen years younger than your actual age. Which, in this youth-obsessed culture, gives you extra advantages, whether you're thirty-something or a grandparent.
These choices include your teeth. Not just movie stars, but adults in all walks of life, are opting for cosmetic dental care that restore youthful vitality to their skin and faces. You might be surprised by the role fresh "young" teeth play in creating that overall first impression.
Your cosmetic dentist can bring you up to date on the incredible and youth-restoring dental options, like dental crowns and veneers, that are available to you. Options available at a fraction of the cost of risky and invasive surgery such as, say, a face-lift.
Whichever restorative dentistry procedure you agree to, or decline, is your personal choice. For example, suppose you're missing teeth. Maybe the gap doesn't show, and you've lived with it for awhile. Replacement with dental crowns or dental bridges might be recommended. The consequences of living with missing teeth are important, but the choice to replace that missing tooth and get one step closer to a beautiful smile is yours.
Just the same, it's your mouth and your decision. Whenever you have questions about your care, ask your local dentist and together you can do what's right for you.
Why Might I Need a Replacement Dental Crown?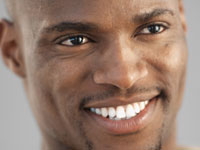 Dental crowns (also known as "caps") are needed on teeth for various reasons. Two of the reasons crowns are needed is to restore broken and unaesthetic - ugly - teeth.
How Long Does a Dental Crown Last?
When crowns are well made, research shows that the average length of time before they wear out is approximately ten years. Because each person is unique, no one can tell you how long a dental crown will last. Even though cosmetic dentistry uses advanced materials, the most durable dental crown material is gold. Dental porcelain fused to gold is the next most durable; an all-porcelain dental crown is the least durable.
Reasons to Replace Dental Crowns
Recurrent decay around the crown edges
The crown material wears down
Broken porcelain
Chronic trapping of food and plaque in between the teeth
Poor appearance
Teeth need to be linked together due to periodontal disease or excessive force
What Causes Dental Crowns to Fail Sooner Rather Than Later?
As stated earlier, each person is unique, but there are some situations that will cause a dental crown to fail sooner rather than later.
Excessive force or clenching
Excessive grinding of teeth or bruxism
Failing to maintain good oral health
Diet high in sugar content like soft drinks, candy and junk food
High decay rate
Severe periodontal disease
Parafunctional habits such as nail biting, pen chewing and pipe smoking
How Are Dental Crowns Replaced?
When replacement crowns are prescribed, there are certain steps that the dentist must complete. First, the dental crown must be removed. This can be accomplished by either wiggling the crown free or cutting the crown off the tooth. Underlying decay should be removed and fillings should be placed as needed. These fillings are referred to as "build-ups" or "foundations" for the new crown. The tooth should then be refined and a new dental crown can then be placed.
No one can tell you how long a dental crown will last. The length of time that they can last is different for each person. Therefore, maintaining regular six-month visits to your dentist is extremely important if you want to maintain a healthy mouth.
By Benjamin O. Watkins, III, DDS