How Do I Care For My Perfect Teeth After Visiting a Cosmetic Dentist?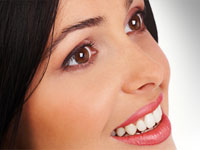 Have you had esthetic enhancements to your teeth or just naturally have great looking, perfect teeth? Here are some dentistry tips to maintain your picture perfect smile.
n order to maintain a healthy smile, you have to know what types of things are damaging to the teeth. Identifying and eliminating bad oral habits is the key to retaining a great smile for many years. Sometimes we are not aware that we are harming the health of our teeth. Do you:
Grind your teeth?
Casually bite your fingernails or a pen?
Crunch ice?
Have a diet high in sugar (such as soda, chewing gum and candy)?
Drink coffee, red wine and tea? Smoke or chew tobacco?
Force your tongue against your upper teeth?
If you answered yes to any of these questions, you are in danger of causing a detrimental effect on your new perfect teeth and smile.
How Detrimental Are the Effects? No one can predict the exact effects that the habit will have on your newly perfect teeth, however, the longer the duration of the habit, the greater negative effect it will have on the longevity of your smile enhancements.
How Can I Eliminate My Bad Oral Habits and Protect My Perfect Teeth?
The first step to eliminating a bad habit is to identify and acknowledge that you have one. If your habit is crunching ice, you must alter or eliminate it from your day-to-day routine.
Other habits are harder to break like grinding your teeth. Grinding the teeth is generally an involuntary action and usually occurs when asleep. Because the habit is difficult to break, a plastic night guard is the best solution to prevent excessive wear of your teeth.
A night guard is a clear plastic mouthpiece that is custom-fitted to snap over your teeth, much like an athletic mouth guard. The night guard is designed so your teeth grind on the plastic, not your teeth. The night guard will wear out, but your teeth will not.
Do not neglect your teeth, especially if you have had esthetic enhancements. Your enhancements will not last forever, so in order to preserve your perfect teeth, have regular dental check-ups and do your best to eliminate bad oral habits.
By Benjamin O. Watkins, III, DDS
Benefits of Cosmetic Dental Care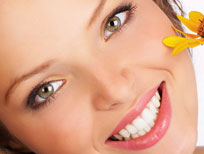 Do your looks affect the way people treat you? Positive self-esteem - how we feel about ourselves - is very important to a healthy personality, to happiness, to the development of a positive attitude about life, and to achievement in the direction we choose.
It is well documented that people with a positive "feeling" about themselves do better in school, in business, and have closer, more meaningful relationships.
One measure of self-esteem is how you feel about your physical appearance; or, more importantly, how you feel you look to others. The complexion, teeth, and nose, in that order, are the highest "rated" facial features.
Self-image begins to develop about age four or five. At that age, identity influences other developing traits: social skills, verbal skills, intellect, and the ability to define oneself as a successful person. In other words, at age four or five a child makes a giant step toward "I'm OK, I'm a worthwhile person," or, conversely, toward "I'm not OK." The results can often affect the remainder of that person's life.
Beauty is often more than skin deep, because the psychological damage to a person who feels unattractive can be devastating. Then there's the other side of the coin. Does how we look affect how others treat us?
Indeed. Studies have shown that good-looking people are given the benefit of the doubt over unattractive people. They're thought to be more intelligent, more likeable, higher achievers, honest, and braver than the unattractive. Even school teachers spend more time with attractive students!
Your mouth is important to your total psychological and physical well-being. Is it worth regular dental cleaning and cosmetic dental care? Is visiting your cosmetic dentist and having your broken teeth restored with beautiful dental crowns worth it? Is straightening crooked teeth with braces worth it? We think you'll probably agree, you and your family are definitely worth it!